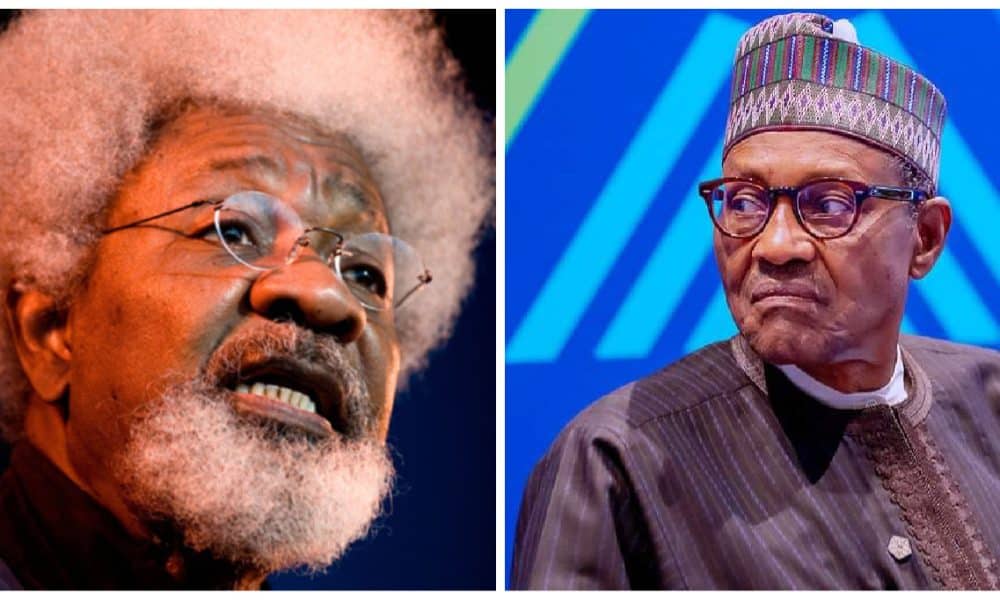 Nobel Laureate, Professor Wole Soyinka has denied voting for President Muhammadu Buhari during the 2015 presidential elections in Nigeria.
The popular playwright and author said people are just trying to guilt-trip him with the accusation, adding that he didn't force anybody to vote for any candidate at any time.
He revealed that on election day, he didn't vote at all because he couldn't bring himself to vote for Buhari but Nigerians voted for him and are now trying to put the blame on him now that things didn't turn out as expected.
Soyinka gave the clarification during a chat with Chude Jideonwo where he spoke about the Nigerian political landscape, dealing with cancer, and other issues.
Speaking specifically on the accusation of voting Buhari in 2015, Soyinka said: "In this country, many people need to find a guilty party for a problem of which they are part. I read that somewhere, somebody said that I should apologize to the nation for backing Buhari. I never, at any time, called on people to vote for Buhari."
He added, "On voting day, I refused to vote on that day because I could not bring myself to vote for Buhari. However, in the end, the people chose him, and when he was there, I said, give him a chance, he has met the nation at just slightly below ground zero.
"I called him and said to him that I believed that he is a born-again democrat. In the previous efforts he made, electioneering and all sorts. I believe he has learnt sufficient lessons to be called a born-again democrat.
"So, in an interview with BBC, when the lady was trying to ask me a question, I said, 'leave him alone, he is a born-again democrat. Give him a chance.
"And she asked, 'what happens if he disappoints? I said, 'then, we go back to the barricades'. That section is never quoted because people do not want to go back to the barricade. They feel this is what they are supposed to do."
HottestHeadline News (https://headline.com.ng/) – Latest and trending news in Nigeria & around the globe