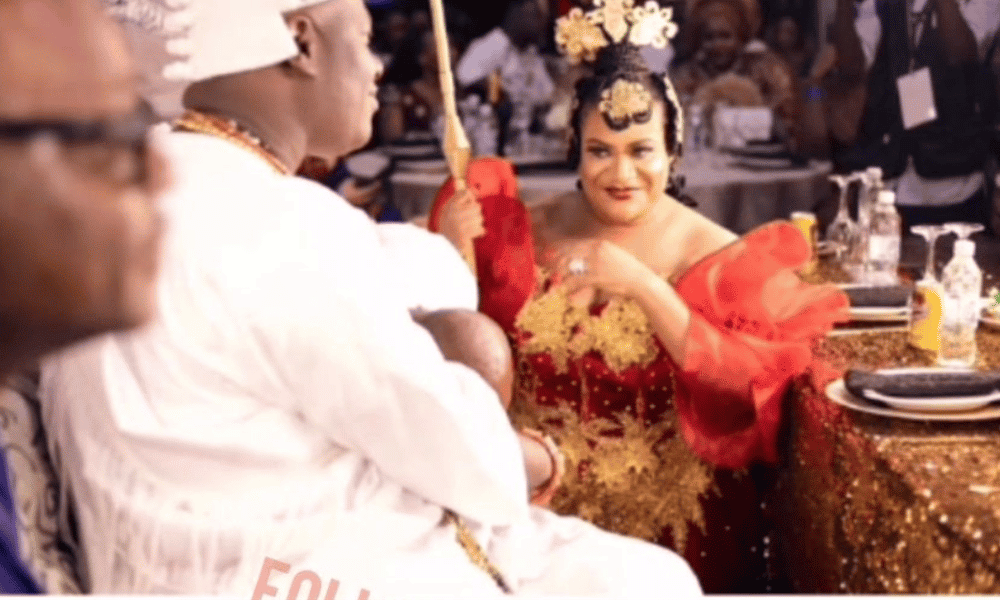 Controversial Nollywood Actress, Nkechi Blessing has publicly declared her interest to join the train of women longing to become one of the wives of Ooni Of Ife, Oba Enitan Adeyeye Ogunwusi.
Headline News reports that the Ooni became a subject of discussion following his series of marriages, especially with his latest marriage to Princess Temitope Adesegun on October 24th.
Taking to her Instagram on Saturday, the actress declared her interest in becoming one of the wives of the Yoruba monarch.
She added that she is eagerly waiting for her turn. She wrote: "Ooni of Ife Sir, I am patiently waiting for my turn..thank you in advance sir.. you can reach me through @idrisconnect."
Ooni Of Ife Gives Reason For Marry Several Women In Short Time
The Ooni Of Ife, Oba Enitan Adeyeye Ogunwusi has given his reason for marrying several women in a short time.
Speaking about the his recent surge in marrying multiple women, Ooni while marking his 48th birthday and seventh coronation anniversary explained that he tried making some changes but he couldn't.
Maybe referring to his decision to keep to only one queen and have concubines, the monarch said of the traditional heritage of Ile Ife, "This institution is bigger than me, beyond me. People in this palace are more than 800, they are close to a thousand. There are some people who have been living in this palace for more than 60 years, while some have lived here for more than 80 years old. Some people are over 100 years old in this palace.
"If I had my way, I tried to challenge it but it blew in my face but thank God I'm still alive. It's an institution that is rich in heritage, culture, and tradition."
HottestHeadline News (https://headline.com.ng/) – Latest and trending news in Nigeria & around the globe