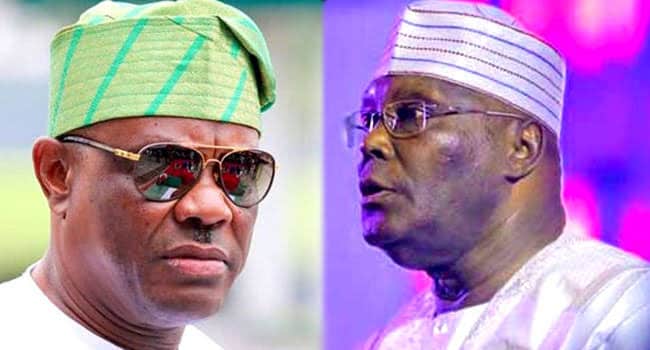 A group known as Peoples Democratic Party (PDP) stakeholders has said the claim from the Governor of Rivers state, Nyesom Wike that the presidential candidate of the party Atiku Abubakar excluded him from his campaign is untrue.
Headline News recalls that Wike alleged that Atiku selected people from Rivers as members of the PDP presidential campaign council without consulting him.
In a statement on Monday, Tai Oyekan, coordinator of the group, said that Wike was contacted by the party but refused to participate in the process.
The stakeholders warned the Rivers governor to desist from propagating false narratives.
The statement reads, "Whereas all state governors made nominations into the council, it was only in Rivers State that the governor refused to forward his nominations into the council.
"It was therefore upon the refusal of the governor that the PDP and its presidential candidate went ahead by their own discretion to make nominations into the council.
"It is public knowledge that Governor Wike has gone amok with the party since his failure to emerge as presidential candidate of the party and has stated, publicly also, that he will not cooperate with the party in our presidential campaign."
Speaking further the group likened Wike to the prodigal son who took his inheritance in annoyance.
They hoped that party would be able to receive him when he traces his step back to their fold.
The stakeholders urged the governor to desist from telling lies against the PDP and leaders of the party for the sake of posterity
"There are respected leaders who have made their marks in life and politics and are indigenes of Rivers.
"We consider it inglorious on the part of the governor that he would describe such people as 'enemies of Rivers State' only because they refuse to be a party of his solo-travel to political obscurity," they added.
HottestHeadline News (https://headline.com.ng/) – Latest and trending news in Nigeria & around the globe